Music Tuition & Ensembles
Music Tuition
Music Tuition at the College is delivered by a team of seven staff, all of whom have been working with our pupils for a number of years.
Together these experienced, qualified professional music tutors have in excess of 100+ pupils every year. Music tuition at Chulmleigh College is for anyone who wants to learn, if we can possibly make it happen!
In an article published in the The Independent, the benefits of music tuition were highlighted, using a recent study of some 112,000 pupils in Canada: those participating in music tuition were "on average, the equivalent of about one academic year ahead of their peers, with regard to their English, Mathematics and Science skills".
A recent report from one of the GCSE exam board highlights how learning to play a musical instrument raises grades in other subjects. Read the full article here.
Lesson arrangements
We generally operate across three 10 week terms. Most pupils have an individual lesson of 20 or 30 minutes, whilst with Woodwind, Brass, Strings, Guitar and Voice, a 30-minute shared lesson is also available if a suitable partner exists. For specific rates for the current school year, please see the downloadable form. We have been successful in bidding for a limited amount of support funds to offer bursaries to pupils who otherwise might not be able to afford lessons. Some will already qualify for a 50% reduction if on the Pupil Premium register. If you would like to apply for support, please indicate this on the online form.
Timetables are displayed on the Music Notice Board and pupils are expected to check them on the morning of their lesson. Lessons are organised on a rota, changing every two weeks (to match the College's two-week timetable). Pupils starting lessons for the very first time will need to speak with Mr Cookson if they need clarification of how it all works.
Musical Instruments
Pupils must provide their own instruments. Rental and rent-to-buy schemes are available from music shops and Devon County also has a hire scheme. We do have a number of flutes, clarinets, saxophones, trumpets, trombones, violins and cellos available for loan. Also, if it's portable (sadly that rules out the piano and drum kit!) then VAT-free purchases are possible through the College. Please email me to discuss.
To Book Lessons
Please follow the link and complete the Online Application Form.
Payments
Payments are due by no later than the first lesson of the term, cheques made payable to the specific tutor (NOT to the College). Some tutors accept online payments and will provide you with their bank details on request. The current fees are £160 for a term of 30-minute lessons, or £108 for a term of 20-minute lessons.
Ensemble Opportunities
The College Orchestra rehearses during Wednesday lunchtimes. It is for instrumentalists who play a woodwind, brass or bowed string instrument. There are also a small number of pianists, guitars and percussionists used in some pieces. Arrangements of music in a range of styles, along with original compositions, are prepared for performance at the College's main large concerts in December and May. The Orchestra also leads the music at the College's Harvest and Christmas Festivals. We attend the Devon Schools Mix Festival and participate in the Devon Music Education Hub's collaboration with the Bournemouth Symphony Orchestra.
CMAc - Chulmleigh Music Academy
At CMAc we have the time for more intensive and focussed specific ensembles to complement the Orchestra and Singers. CMAc takes place at the College on Wednesdays, from immediately after school to 5pm. In the past few years, we have been very fortunate to secure external funding through the Devon Music Education Hub (DMEH), to support instrumental and vocal ensembles for pupils in Key Stages 2 to 4, so the termly subscription is only £20 per musician. To register for CMAc, please complete the form CMAc Registration.
Pupils stay on at the end of the College day, or join us from their primary schools. Most parents then arrange lift shares back to their respective villages.
CMAc is proving popular with our young musicians, but is also developing a good reputation further afield. In a recent visit, the Director of the DMEH brought the heads of music services from Cornwall, Somerset and Gloucester to have a look at what we do, and feedback included, "The way things are being done at Chulmleigh is the right way. I would like to see the same in Gloucester".
CMAc Brass, CMAc Woodwind and CMAc String ensembles are led by our visiting instrumental staff of Mr Loysen, Mr Smith and Mrs Craddock. All of these have extensive experience and are overseen by Mr Cookson, College Director of Music. The standard of music making is definitely on the rise at Chulmleigh, in no small part owing to the positive influence of CMAc. If you are interested in becoming part of CMAc, please speak with Mr Cookson. No experience is needed for CMAc Choir but some basic instrumental skill is needed for the other groups.
Any questions about CMAc? Please email cmac@chulmleigh.devon.sch.uk.
Strings & Keyboard with Mrs Louise Craddock
Mrs Craddock teaches Violin, Viola, Cello and Keyboard at the College.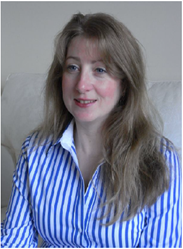 She says: "Since graduating in 2000 with a BA (Hons) degree in music, I have provided instrumental music tuition in primary and secondary schools across the North Devon area. A classically trained musician, I've been an instrumental music tutor at Chulmleigh Academy Trust since 2004, teaching pupils from Year 1 through to Year 12. I'm also the CMAc String Group Tutor. Patient and professional, my tuition is very much focussed on the individual's needs, tailoring lessons to suit each pupil's musical preferences and aims. I'm very experienced in preparing pupils for ABRSM Practical and Theory exams and GCSE Music performances. I play regularly with local ensembles."
Please don't hesitate to contact me of you would like any further information.
Tel: 07905 898 311 Email: l.craddockmusic@btinternet.com
Piano with Mrs Carina Smith
Mrs Smith is our wonderful resident piano teacher.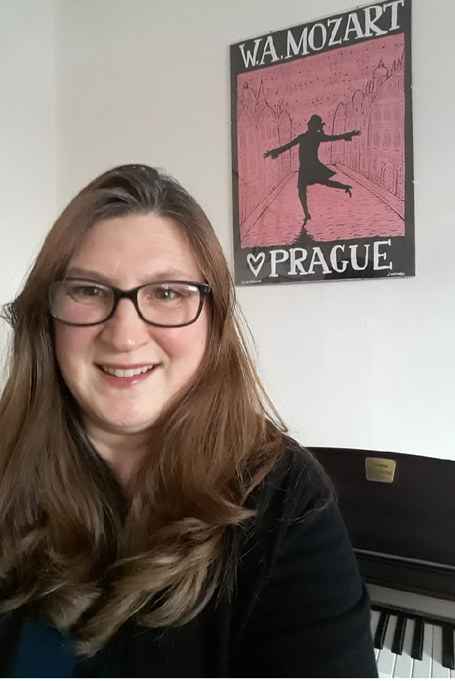 She says "I have been teaching the piano since I graduated from The Royal Academy of Music in 1996. I enjoy teaching all genres of music to all ages. I am keen to see all my pupils make good progress and really enjoy teaching at Chulmleigh. When I am not teaching or making music (I play in numerous local and regional ensembles), I enjoy walking on Dartmoor with my spaniels or creating something tasty in the kitchen!"
Singing with Miss Louise Mott
Miss Mott has been teaching singing at schools in Devon, and privately, since 2005.
She is also a busy freelance singer and has performed in opera, oratorio and recitals across the UK and abroad for nearly thirty years. She studied Singing & Vocal Teaching at the Guildhall School of Music and Opera at the Royal College of Music and the National Opera Studio. She has sung with all the major opera companies in the UK including Royal Opera, Royal Ballet, English National Opera, Opera North, Welsh National Opera, Glyndebourne Touring Opera, Diva Opera and English Touring Opera.
Former pupils have gone on to study music, singing, acting and musical theatre at institutions including Guildhall School of Music and Drama, Birmingham Conservatoire, Durham University, Bath Spa University, University of Chichester, BIMM Bristol, Cardiff University and East 15 Theatre School.
Miss Mott says, "I aim to make learning to sing as fun and enjoyable as possible and whether pupils are interested in working towards exams or just singing for pleasure, I really want them to reach their full potential and discover what their voice can do. I teach a variety of styles, including classical, opera, music theatre, rock and pop and country, so there is something for everyone!'"
In her spare time, Miss Mott enjoys gardening, DIY, patchwork and cooking, as well as being an unpaid slave to her four cats - Toby, Ben, Millie and Pumpkin!!
Woodwind with Mr Steve Smith
Mr Smith is our resident teacher of all things woodwind, including Flute, Clarinet, Saxophone, Recorder and Oboe. He also directs the CMAc Woodwind Ensemble.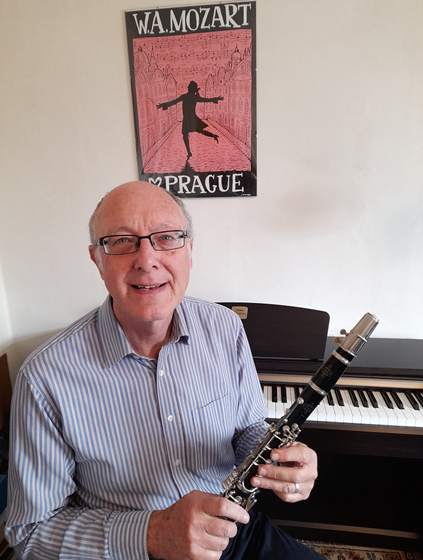 He started playing the clarinet at the age of ten, and the other woodwind instruments soon after. He began a career as a full-time instrumental teacher after graduating from Music College, and has taught in primary and secondary schools in both Devon and Cornwall since then. He was appointed the woodwind teacher at Chulmleigh College in 2012.
Mr Smith loves all genres of music, including classical, jazz and popular styles, and has many years of experience directing ensembles and bands of all kinds. He plays clarinet and saxophone in many orchestras and ensembles in the South West. When not involved in music he enjoys travelling, walking, cycling and spending time in the garden.
Brass with Mr Jeremy Loysen
Our resident Brass tutor has been teaching Trumpet, Trombone, French Horn, Cornet and Euphonium at the College for over twenty years. He also runs the CMAc Brass Ensemble.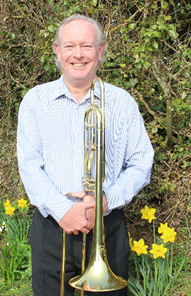 Mr Loysen says, " I really enjoy introducing brass playing to new pupils of all levels. Some of my pupils have gone on to careers in military bands or have studied at conservatoires. Having studied music in London and Manchester, I went on to play as principle trombonist with one of the national Netherlands Orchestras in Amsterdam for many years. Then I exchanged my house in old Amsterdam for an even older house in Devon, since when I have freelanced widely across the South West as a brass player and have taught brass instruments both individually, and as an ensemble tutor, in the surrounding areas. As well as orchestral work I play regularly with AJ's Big Band and the international 'Die Idleburghers' Bavarian Oompah band."
Guitars with Mr Kevin Butt
Kevin teaches all varieties of guitar and bass guitar at the College. He is also a very accomplished performer and composer and jointly runs our Jazz Club.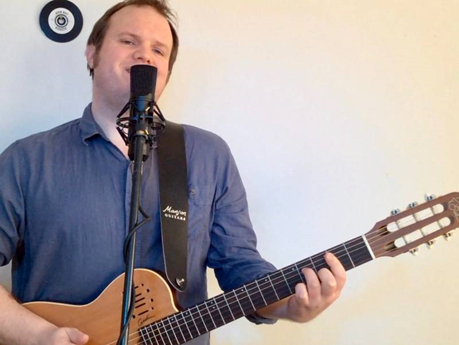 Kevin says,"I have been teaching at the College for over 20 years. Lessons will usually follow the Rock School syllabus, while shaping lessons to pupils' needs and tastes, with a focus on technique and understanding as well as having fun.
Former pupils have gone on to have successful careers in music, working with artists like Adele and Jessie J, and touring theatre shows, as well as studio work and releasing their own material successfully.
As well as teaching the guitar and bass, I am a freelance musician who has worked with the likes of the Four Tops, the Drifters, and currently the Joe Loss orchestra as well as many more. I am also currently working in a multi media project with Mr Rattenbury, [College Drum Teacher]."
Drum Kit with Mr Glynn Rattenbury
Mr Rattenbury is our very popular Drum Kit teacher at the College, where he has been teaching for at least 10 years.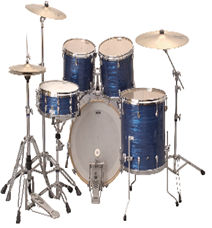 "I have been teaching since graduating from university in 2001 with a degree in Popular Music Performance, specialising in Drum kit. Chulmleigh is one of three secondary schools I currently teach at in the Devon and West Dorset area and I have also taught children of primary age in three other schools in East Devon.
I can offer pupils the opportunity of taking graded examinations should they wish to, most often using the Rock School graded drum kit course, if not, each lesson is individually tailored to the pupils@ requirements and rate of progress.
Along with teaching I also have a wide range of playing experience, ranging from rock/pop bands to jazz ensembles and swing bands. I have performed in many show bands for musical theatre and play Timpani for local orchestras and concert orchestras.
Teachers Rock Youth Choir
The Teachers Rock Youth Choir is a fantastic organisation delivering high quality ensemble singing across the region. We are fortunate that it's founder and CEO, Debbie Kent, runs our own branch of TRY hosted at CMAc. The choir is open to pupils from Key Stage 2 upwards. Recent outside events included performing at Exeter Cathedral and at the National Music Education Expo at London's Olympia.